FraudBuster introduces MyFraudBuster, the last release of its Customer Interface
Discover MyFraudBuster
FraudBuster, leading bypass fraud detection service provider, is glad to announce MyFraudBuster, the latest release of its online Customer Interface. MyFraudBuster comes with brand new features to enrich the existing and unique traffic monitoring reports, and now includes International Traffic monitoring.
Unique insights on fraudulent and official traffic
MyFraudBuster offers Mobile Network Operators (MNOs) an in-depth and always up-to-date data on traffic and SIMBuster service performance:
Unique views on Fraud
Volumes of Incoming International Traffic
Volumes of Prejudicial Bypass Traffic
Volumes of SIMbox traffic by nature, source and destination (On-Net, Off-Net, Roaming, International)
Detection Performance
Number of detected cards per Type
Speed of Detection (MoU)
Voice and SMS Fraud
MyFraudBuster now adds views on the fraudulent SMS Traffic (SIMbox, plans abuse, etc.)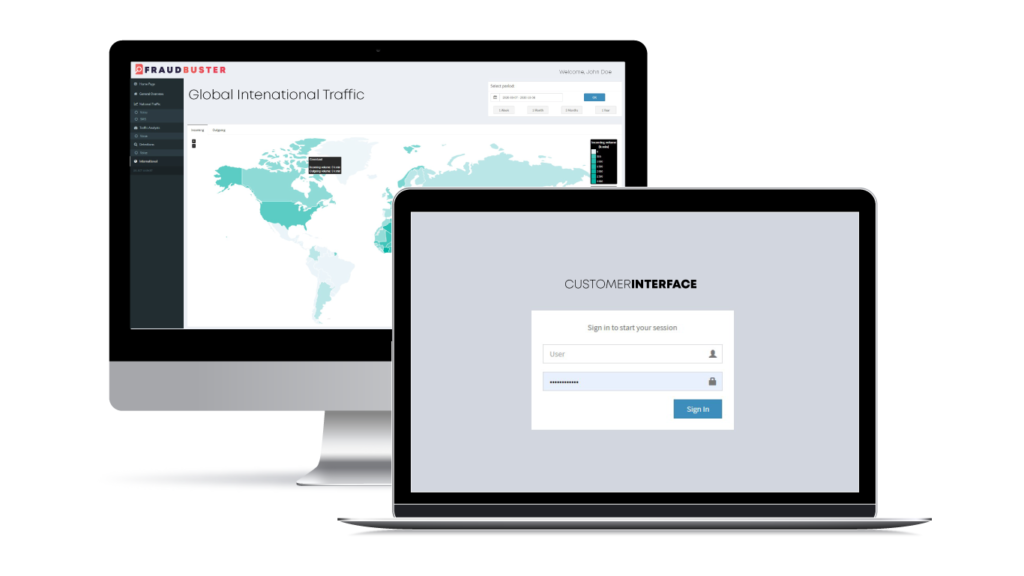 International Voice Traffic
MyFraudBuster now provides the recorded Volumes of International Voice Traffic (Incoming and Outgoing) for all partner countries. Fraud Managers can now monitor trends independently, with data updated daily:
Heat Map for Incoming and Outgoing Traffic
Top 5 Destinations and Origins
Detailed statistics for all partner countries: Volumes and Number of Call
Enhanced management of the technical environment
Operators can get a view on the technical performance of their own system for easier maintenance and troubleshooting:
CDR processing: monitor the flow of CDRs, a vital element of the solution,
Split values between fixed and mobile MSCs: optimize the troubleshooting speed on your network elements, and get a view per MSC, per type.